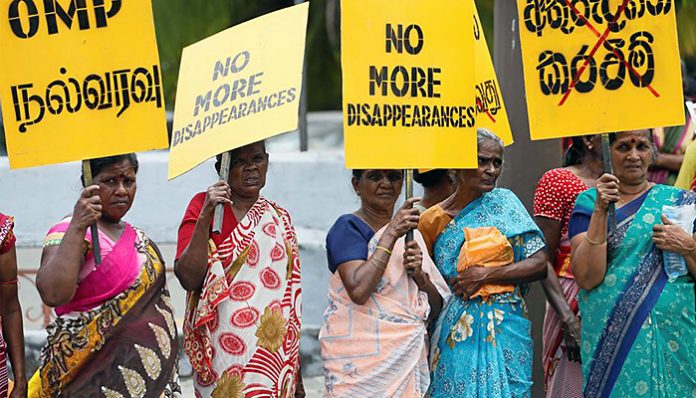 The association of the disappeared in the Tamil Homeland searching for their kith and kin who went missing during the war or surrendered after that has questioned two TNA MPs recently meeting the Chinese ambassador clandestinely.
Secretary of the association Gopalakrishnan Rajkumar while speaking to local media accused MPs M A Sumanthiran and R Shanakkiyan of "meeting the ambassador without informing the leader of the TNA or other members in the alliance and for their own benefit".
"China has never voiced any support regarding human rights or any other issue concerning the Tamil people at any time. We have been demanding that China should completely withdraw from the Tamil homeland and that all Chinese projects be stopped in the Tamil homeland in the North and East. As such we cannot accept MPs who claim to represent the people who speak about Tamil Nationalism and the Tamil people meeting the Chinese ambassador clandestinely" Rajkumar further said.
The association also demanded the resignation of the president of the ITAK 'Maavai' Senathiraja if he cannot reform the party and remove MP Sumanthiran from the party.
"It's time to oust the Colombo-based Tamil Politicians from the North and East Canvas and we are ashamed of the activities of the TNA" While it's normal for MPs to meet ambassadors, details about the meeting normally emerge afterward, Both the MPs are accused of not publicizing their visit the Chinese embassy and maintaining silence even after the media leaked it. TNA MP and PLOTE leader Tharmalingam Sitharthan too has echoed the views of the association.
"There's nothing wrong for MPs to meet foreign diplomats, but the problem here is two of our MP's went and met them secretly," he told media persons in Jaffna.
While MP Shanakkiyan Rasamanikam refused to comment on their meeting with the Chinese ambassador, the other MP Sumanthiran did not respond to calls
Facebook Comments