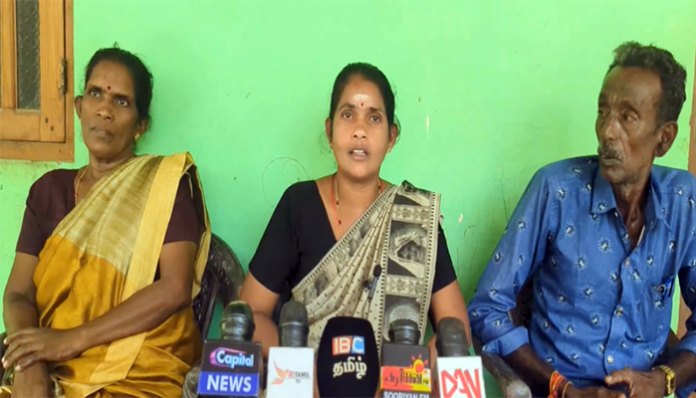 Three parents of erstwhile Tamil Tiger cadres have said they will fast unto death until Alambil Maaveerar ThuyilumI Illam (cemetery where former LTTE cadres are buried) in Mullaitivu district is not released from the control of the military.
They have demanded that the land where the cemetery is located-which is under military control- be returned to the public to enable them to pay homage to those who lost their lives during the three-decades-long brutal civil war which came to an end 14 years back.
Tamils in Sri Lanka's north and east are making preparations to commemorate their war dead on the 18th of May Maveerar Naal (Martyrs day) – the 15th year since the bloody end of the war.
Nearly 25 cemeteries that contained at least 20,400 graveyards of fallen Tamil militants in the North and East were bulldozed and the memorial plaques were demolished by the military since they captured the Tamil areas from the LTTE.
The fasting trio of parents vowed that they would go ahead as planned if the political leadership and officials fail to offer a solution to their demand. They claim the Alambil cemetery has been desecrated by the Sri Lankan army's 23rd Sinha Regiment which is located close to their camp.
"The army is engaging in agriculture, playing cricket, and running a restaurant where our children are buried. They should immediately get out of the cemetery so that we could pay tributes to our children peacefully" the parents told local media people.
The father and two mothers of three former Tamil Tiger cadres shared their deep sense of anguish at the cemetery being used for various commercial and recreational purposes by the Sri Lankan Army.
"We are living under severe stress as we are unable to pay tributes to our relatives and light a lamp praying for their souls to rest in peace" the parents have said.
They have demanded that the politicians and the officials take necessary action at the earliest to retrieve the land where the cemetery is located in Alambil so that all the parents whose children are buried there could pay solemn tribute to them; failing which their 'fast unto death' would go ahead as planned.
Paying tributes to the dead is part of the Tamil culture which has been declared as a fundamental right by the UN.
Local Tamils in the North and East have expressed their anger and disappointment that while the Sinhala army personnel who were killed in the battle against the LTTE are being venerated and honoured by the state in an annual victory day; the Sri Lankan government and the Army threaten and intimidate the Tamils who want to do the same by remembering their loved ones and lighting a lamp in their memory.
Facebook Comments