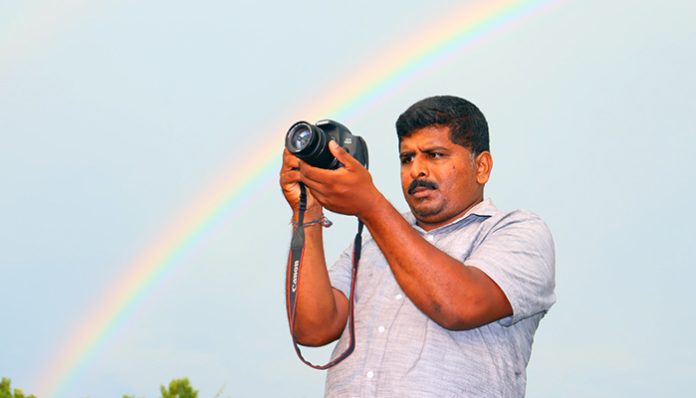 An intelligence official from the Sri Lankan Navy has been summoned by the Mullaitivu court over threatening and obstructing a leading Tamil Journalist for covering an event organized by the relatives of those who were victims of enforced disappearance.
The ruling was delivered on World Media Freedom Day in which Jaffna Press Club held a protest condemning ongoing attacks against freedom of expression, particularly in the north and east of the country.
The grieving mothers and relatives of those who disappeared after surrendering to the army at the end of the brutal civil war which came to a bloody end in May 2009, are still searching for them braving their physical and mental fatigue.
At least a 160 relatives have died in the continuous struggle launched over six years ago.
Journalist Shanmugam Thavaseelan, who is also the head of the press club in the war-ravaged Mullaitivu was covering a rally by the enforced disappeared persons families on 07 April 2019 from the District Secretariat to the Vadduvakal bridge in the district.
While journalists including him were covering the event, an unidentified person was filming the media persons and the protestors apart from threatening them. As the protestors attempted to stop the filming, Thavaseelan intervened and enquired who the said person was and why he was filming the protest, and its coverage on his mobile phone.
Instead of answering, the said person attempted to flee the place, the protestors chased and apprehended him upon which he admitted he was a naval officer.
Mullaitivu police did not arrive at the scene despite requests to come. Hence the person caught by the protestors and the public was taken to the Gotabaya Naval Camp, where the officials confirmed he was a navy personnel indeed. Subsequently, he was handed over to the Police who arrived at the camp and the protestors returned back.
Thereafter the said Naval officer filed cases in the Mullaitivu Police station under false pretexts against the journalists they allege. Thavaseelan was subsequently summoned by the Police, arrested, produced in court, and released on bail. The case continues and when came for a hearing on the 4th of May at the Mullaitivu Magistrate's court the petitioner did not turn up for the hearing. Mullaitivu Magistrate T. Saravanaraja adjourned the case after issuing summon to the petitioner-the naval intelligence officer to court on the 21st of September.
Locals say the petition by the naval officer against journalist Thavaseelan is 'frivolous and devoid of merit and nothing but an act of vendetta'.
Thavaseelan has been covering issues including state sponsored offences in the most militarised area of the island despite intimidation, death threats and assaults mainly by security forces.
Facebook Comments