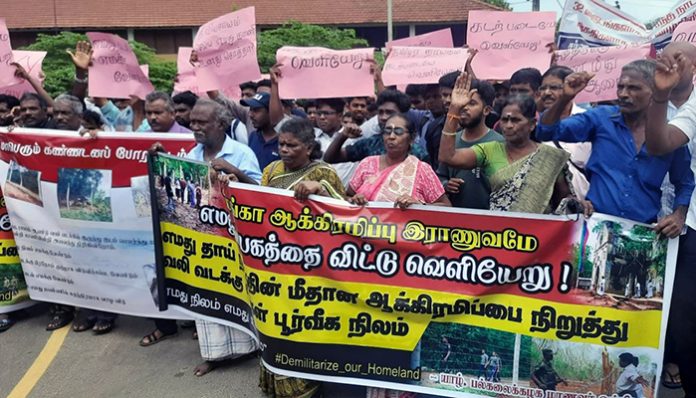 Thirteen years after the end of the war, a protest has been launched in Jaffna demanding the immediate release of the private lands of the Tamils in the Northern and Eastern Provinces, forcibly occupied by Sri Lanka security forces.
Organized by the Jaffna University Students' Union, the protest march started from Thellipalai Junction on Wednesday, November 2nd with the participation of hundreds of people including landowners, civil society activists, and religious leaders. These groups reached the Valikamam North Divisional Secretariat and handed over a memorandum containing their demands.
The memorandum, which demands the immediate release of all the private lands belonging to the Tamils in the North and Eastern Provinces, forcibly occupied by the government's security forces, has further requested that the military forces occupying those two provinces be immediately removed from that land.
Provincial correspondents said that the memorandum called for a referendum to be held in order to find out what permanent political solution the Tamils really want.
According to the local residents, during the time of war, private lands belonging to the Tamils, which has been acquired by the army in the Valikamam North area alone, is 6384 acres.
They had been able to take back 3384 acres of land by protests made by traditional landowners.
Local residents also said that the Minister of Lands sent a letter to the Regional Secretary last September to allocate 1600 acres of land for the expansion of the army camp out of the remaining 3000 acres of land not released so far.
The government has told the UN that only 53 acres of land in the north and east are occupied by the militry.
Facebook Comments