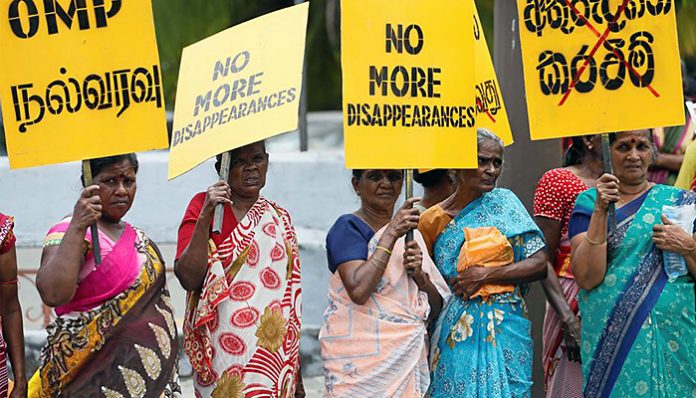 The Association of Relatives of Enforced Disappeared Persons from the North and East has accused the Office of Missing Persons [OMP] of being just another government agency that operates according to Sinhala racism.
The organisation, which has been in a continuous struggle for justice for its loved ones for more than 2080 days, pointed out in a statement issued from the northern town of Vavuniya that this office, is following in the footseteps of the Department of Archaeology, Forest Conservation, Wildlife and Mahaweli Authority, as another Sinhalese institution that oppresses the Tamils.
Mahesh Katulanda, head of the OMP, had told a foreign news agency that none of those who had surrendered to the army in the last few days of the war in Mullivaikkal had gone missing, and there was no evidence to suggest so.
OMP Chairman Katulanda has stated that these people have been abducted and disappeared by the LTTE and the groups against them, claiming that government security forces 'saved 60,000 civilians'.
He has further said that 50 persons who were assumed to be disappeared were discovered to be living abroad. The OMP head was quoting and 'investigation' by unnamed sources.
The secretary of the association of Relatives of Enforced Disappeared Persons from the North and East (ARED), G. Rajkumar pointed out that his association rejected the establishment of OMP when it was established.
"While the southern non-governmental organizations led by Nimalka Fernando supported it, the Tamil National Alliance MP M.A.Sumanthiran, who abandoned the campaign to take the investigation to the International Criminal Court also supported the formation of the OMP," G. Rajkumar said.
In response to the OMP Chairman's denial of a Tamil genocide in Sri Lanka, the ARED pointed out that if offences confirmed by the United Nations report in 2011 are investigated, the Sri Lankan government forces would be proven to have committed war crimes and crimes against humanity.
The International Monetary Fund(IMF) and other powerful countries giving financial aid to the Sri Lankan government is like 'giving oxygen to the Tamil genocide' said ARED.
According to the written statement given by the late Mannar Bishop Rayappu Joseph to the Lessons Learned and Reconciliation Commission (LLRC) had stated that the difference between the people who entered the demilitarized zone in the north and those who left it after the war is close to 147,600.
OMP Founding chairman, Sri Lanka Bar Association's current President Saliya Peris had said the number of disappeared is about twenty thousand, and the majority of them are those who surrendered to the military.
Facebook Comments