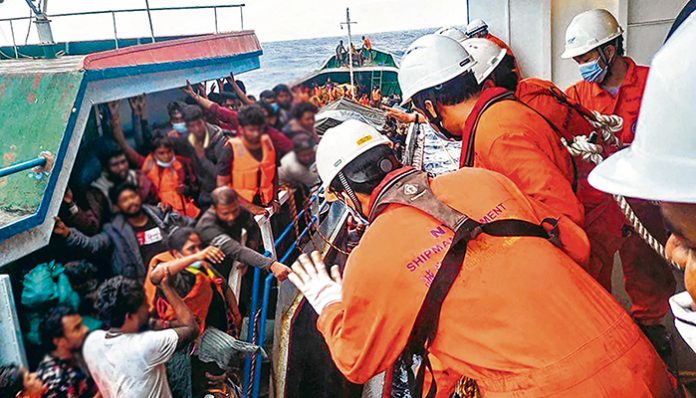 Fears loom large as talks of repatriation gain momentum among the 303 Sri Lankan refugees detained in Vietnam, as officials from Colombo are expected in Hanoi as early as this week if sources are to be believed.
The refugees including elderly women and children have categorically refused to return to Sri Lanka for fear of safety, intimidation, and harassment.
"We would have rather preferred to have perished mid-sea or here rather being forcefully repatriated to Sri Lanka" an elderly person told while speaking to a Tamil media.
The refugees have asked the help of the International Organisation for Migration (IOM) which is part of the United Nations System to coordinate with other countries (in particular Canada) and UNHCR-The UN Refugee Agency to relocate them.
The UNHCR office in Vietnam was closed in 1999 and its office based in Thailand is responsible for operations in Cambodia, Laos, Thailand, and Vietnam. IOM officials told the source on condition of anonymity "We are coordinating with the Vietnamese authorities as per protocol".
According to IOM apart from coordinating with Vietnamese authorities to ensure the basic needs of the refugees are met nothing more could be done from their end. Also, no foreign government has responded yet to the request of the refugees who fear for their lives for safe passage.
A senior Vietnamese official to whom the camp officials report says "The Sri Lankan team is arriving shortly may be in a week for the repatriation process".
Videos emanating from the refugee camp show them in tears pleading not to be sent to Sri Lanka under any circumstances.
The refugees left for Myanmar by air and from there by Myanmar flagged Vessel 'Lady R3' which developed snags during their alleged voyage towards Canada. The vessel sent out a distress signal when its engine room flooded and it began to drift.
The Maritime Rescue Coordination Centre based in Singapore alerted a Japanese Vessel that was closest to it and rescued them.
Though the ill-fated vessel was said to be in the territorial water of the Philippines, the refugees were taken to the Vung Tau port in South Vietnam and handed over to the Vietnamese authorities.
According to the refugees the crew of the large fishing vessel allegedly 'jumped ship' to safety leaving behind the 300-plus refugees stranded and struggling mid-sea.
Vietnamese authorities say, involving other foreign nations in their repatriation would lead to a wrong and dangerous precedent of more such boat people arriving on their shores.
Facebook Comments