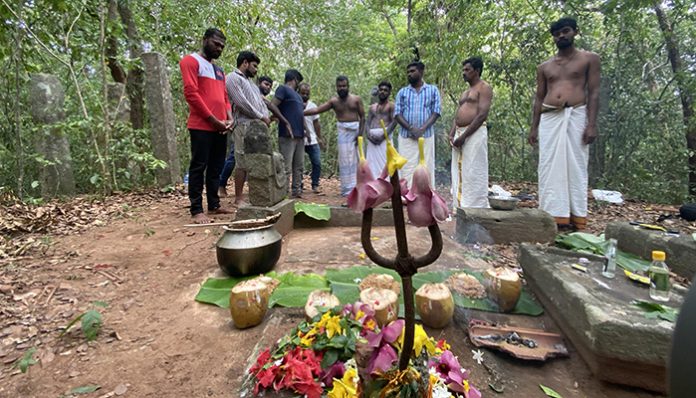 The Sri Lankan state has directed its officers to put a hold on land grabbing and surveying lands in the traditional Tamil homeland of the North and East under the guise of 'sites of archaeological importance'.
This was decided at a meeting between five Tamil MPs and the Minister of Buddhasasana, Religious and Cultural Affairs, Vidhura Wickramanayake after the Tamil MPs emphasized to the President to immediately halt all land grabbing attempts with the support of the archeology department.
"We have been continuously echoing in parliament about the continued grabbing of lands with vast cultural significance and heritage of the Tamils by the archaeological department. We also impressed upon the president that action need to be taken to put an end to this "Ilankai Tamil Arasu Katchi (ITAK) MP Charles Nirmalanathan told the media after their meeting with the minister.
"We basically discussed regarding the building of the Vihara in Kurunthoormalai and grabbing of lands around it. He immediately ordered the secretary to stop the land grabbing." Nirmalanathan further added.
The Vanni district MP further said the minister told their delegation that since the matter regarding kurunthoormalai is in court and is being taken up for hearing on the 4th of July, discussions regarding the construction of a Vihara there could be taken up after that.
At the meeting Jaffna district Tamil MP Sivagnanam Sirithan raised the issue of the land survey being conducted in areas closer to Killinochi-Uruthirapuram Sivan Kovil and demanded that such surveys be stopped immediately, upon which Minister Wickremanayake ordered the Director General to stop forthwith such activities, Charles Nirmalanathan told the local media.
Discussions also took place regarding worship at the Vedukkunari Athilingeswarar Kovil. However, it was told by the Minister to the Tamil MP's delegation that since a court case filed by the Archeology department is pending in the court, discussion on the matter could be considered after the judgement according to Nirmalanathan.
"We also expressed our objections to large scale installations of Buddha statues in the Military camps across the North and East".
Minister told journalists of Tamil MP's fear that Sinhala people will settle in the archaeological sites and Tamils will lose their land.
"No such unwarranted fear should be there"
Facebook Comments