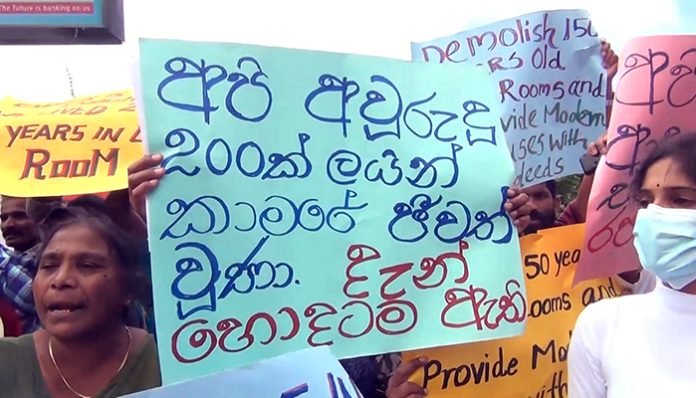 Estate workers have raised their voices in the capital for not being able to secure their right to own a house of their own despite having worked for over two centuries to strengthen the country's economy.
Marking the World Habitat Day, the Institute of Social Development in Kandy has joined with plantation workers for a protest in front of the Fort station. They stated that although for the coming year it will be 200 years since the plantation workers came to this country, they still live in the line houses built by the European colonisers 150 years ago.
"So now 169,000 plantation workers still live in the 10 feet rooms built by the British 150 years ago. Three to four families are forced to live inside one room"
Periyasami Muthulingam from the Institute of Social Development in Kandy has emphasized that 169,000 plantation workers are trapped inside these line houses and that they have not been given the legal right to the houses owed to them.
"At present, there's only 169,000 line rooms. Since 1987 till today 35,000 single floor houses and flats have been built. But until today they have not been given the legal right to those houses."
He further stated that even though these plantation workers have paid the due loans for the built houses, they are yet to be given them.
With a protest banner that says, "Give back the legal deeds of the 37,000 line houses built since 1987," he further accused Sri Lankan politicians of not taking a step towards solving the housing issue faced by the plantation workers who had worked so diligently even during the COVID pandemic.
He also accused all the politicians who had come to power, especially the ones that do not solve the problem even though they have given promises in this regard.
Facebook Comments