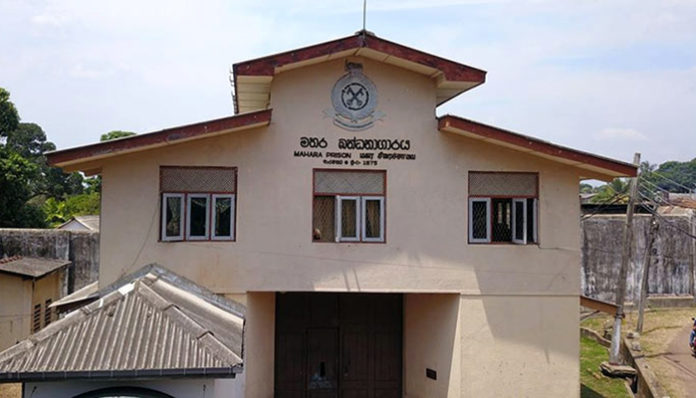 The Human Rights Commission of Sri Lanka (HRCSL) has received a complaint alleging that a young detainee was tortured and killed in a prison.
27-year-old Kavinda Isuru Tissera, who was found dead inside the Mahara prison on 3 May was severely injured by beating.
In their complaint to HRCSL his tearful mother and father say that their dead son's limbs were broken.
"All I can tell is that my son was beaten to death," R.M Karunawathie, the mother told journalists.
"When we went to see him in the morning there was a big bleeding wound at the back of his head. His legs were broken. His hand was fractured."
Karunawathie and her husband Sumanadasa Tissera made the complaint on the day the president was advising officers to tighten security in prisons.
"I have stressed need to ensure criminal operations by underworld kingpins& drug mafia from within prisons, is ended forthwith. Corrupt and inefficient officers who enable such actions will be identified & action taken should appropriately," announced President Gotabaya Rajapaksa in a titter message. However, the president's office did not say whether any investigation will be conducted about death in custody.
Detainee was starving On the day of Kavinda Isuru's death, officials told media that he fell off the 20 feet tall prison wall trying to to escape.
The detainees parents said that the he was kept in isolation within the Mahara prison in Covid 19 quarantine and did not have any food for several days.
Prisoners' rights activists question how a starving detainee could jump over prison walls.
"According to information we have received, the truth is that the detainee had been beaten up, severely tortured and murdered. This has now become a pattern," said Sudesh Nandimal de Silva, Convener of the Committee to Protect Rights of Prisoners.
He recalled that since the new president Gotabaya Rajapaksa came to power six months ago, deaths in custody had occurred in Anuradhapura, Kuruwita and Welikada high security prisons before Mahara.
Facebook Comments