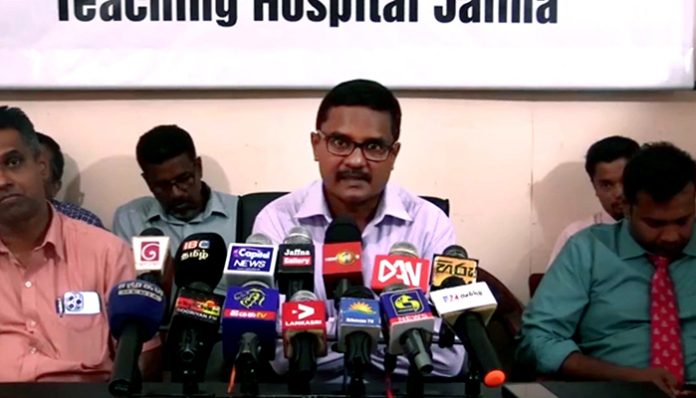 Medical professionals have warned about the risk of the people living in the Jaffna Islands losing access to basic medical facilities due to the new tax policy introduced by the government.
Jaffna Island Area Hospitals' Doctors Association (JIAHDA) pointed out that the new income tax effective from January 1, 2023, will badly affect professionals from different sectors including the doctors.
Secretary of JIAHDA, S. Nishanthan said that the doctors who are assigned to the Jaffna island hospitals are reluctant to work in those hospitals as they have to bear a huge cost for traveling that will rise further with the new tax policy.
According to the Inland Revenue (Amendment) Act passed in Parliament on December 9, 2022, the tax will be levied on the income of individuals earning more than one hundred thousand rupees per month. Individuals whose monthly income is up to one hundred thousand rupees have been exempted from tax.
Brain Drain
Dr. S.Nishanthan pointed out that many doctors are already leaving the country due to the current economic crisis and the reason why it has affected the severe shortage of doctors in the hospitals located in the islands of Jaffna is that the doctors have to bear a massive transportation expense to travel to those islands.
As all the hospitals in the islands of Punguduthivu, Velanai, Urgavatthurai, Karainagar, Eluweithivu, Nainathivu and Nedunthivu are already short of doctors, patients receiving treatment from those hospitals are facing great inconvenience, said Dr Nishanthan.
Speaking to journalists in Jaffna the JIAHDA secretary revealed that last week a doctor had withdrew from the Karainagar hospital while the doctor appointed to the Analaitivu hospital is yet to report to work.
As the only doctor who is currently working in Velanai hospital is also about to leave, the hospital is risks shutting down.
According to the Union Secretary S.Nishanthan, there is only one doctor currently working at Nedunthivu Hospital.
The JIAHDA Secretary further said that in addition to travel expenses in these islands, the price of food is also very expensive.
Dr Nishanthan urged members of Parliament to provide a quick solution in this matter.
Douglas Devananda, who has been elected to Parliament by the votes of the islanders of this region, is the Fisheries Minister in the current government.
Media have reported that the Deputy Commissioner of General Customer Service & Promotion, S.S.D. Weerasekara has said that private service providers including doctors who provide private services have also been included under the new tax rise.
Facebook Comments