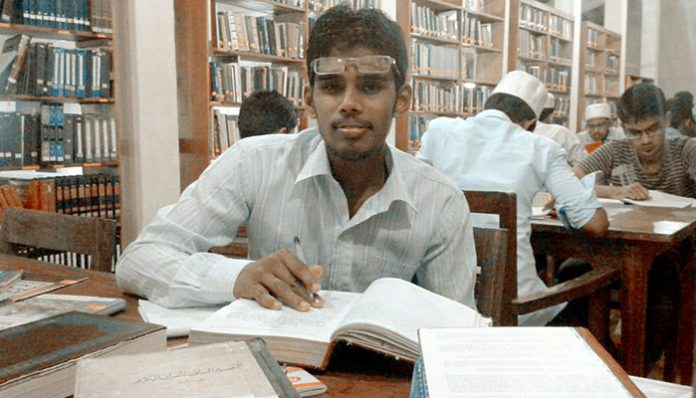 International pressure is mounting on Sri Lanka to release Ahnaf Jazeem- a teacher and poet who has been kept in detention under the notorious Prevention of Terrorism Act (PTA) for publishing a poetry book for a year now on charges what human rights groups call 'unsustainable'.
More than a dozen rights groups have issued a joint call for his immediate release or filing charges against him and conduct a free and fair trial in accordance with international standards.
They have also called upon the Sri Lankan government to "immediately repeal the deeply flawed PTA which has facilitated human rights violations especially of Sri Lankan minorities".
Ahnaf Jazeem's poetry anthology titled 'Navarasam' written in Tamil d has never been banned.
Sri Lankan authorities claim the anthology exposed his students to 'extremist' content with the intention of turning them into followers of 'extremist ideology'. Its author and his legal representative flatly reject these claims. Eminent Tamil scholars too have dismissed the government's version.
The 13 signatories in their joint statement say, 'His arrest comes against a backdrop of increased marginalisation and discrimination targeting Sri Lanka's Muslim Community'. His attorney says Ahnaf has been coerced to make a 'false statement' while being held in degrading treatment.
The Sri Lankan authorities reportedly found copies of the book 'Navarasam' at a school that was being investigated for what investigating agencies say for its alleged links to the East Sunday Terror attacks.
Jazeem was denied access to legal representation for close to ten months and even his family were given access to meet him only after five months.
Sri Lankan terror police are yet to bring forth any evidence to substantiate their allegations against Ahnaf Jazeem. The signatories to the joint statement have demanded that he should be provided a fair trial in accordance with international standards so that he has an opportunity to prove his innocence.
Sri Lanka's draconian PTA provides authorities with sweeping powers to arbitrarily detain individuals without any charges for up to 18 months without charge or trial. The rights groups point out 'the PTA has been used against Sri Lanka's ethnic and religion minority communities.
Despite repeated calls from the UN and other human rights organisations to repeal the legislation successive Sri Lankan regimes have remained adamant in retaining them and continue to use the PTA against some of the country's most vulnerable populations.
Facebook Comments