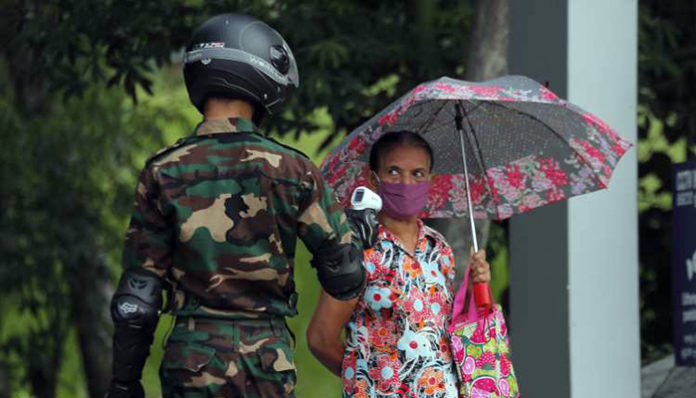 As fears and concerns persist about spread of COVID19 in Sri Lanka, there are rising fears and concerns about declining democracy and rising threats to rule of law and rights violations. Rights are being restricted, powers of the executive, police, military, and government officials are increasing and checks and balances and possibilities of legal remedies for victims are decreasing. Governments, some media, and others with vested interests are seeking to propagate that these must be tolerated at the time of crisis. In any crisis, the politically, economically and socially vulnerable and marginalized become even more vulnerable and marginalized. In Sri Lanka, they include COVID19 patients and their families, families of those who died, survivors and families of past victims of past rights violations, ethnic and religious minorities, those with disabilities, women, children, elderly, refugees, prisoners, farmers, fisherfolk, factory workers, estate workers and workers in the informal sector etc. Below are some significant rights concerns amidst the fight against COVID19 in Sri Lanka.
1. Stigmatizing and degrading treatment to the deceased, patients and the poor
The first Sri Lankan COVID19 infected person was identified on 11th March. Since then some TV stations and social media had publicized false information about the patients, suspected patients, and even the dead. They had invaded the privacy of patients and suspected patients, those being quarantined, often in the presence police and military, and with their tacit support. It was only after around six weeks of this drama that the Secretary to the Ministry of defense appealed to stop this after about 250 military personnel were infected. On 17th April, police lined up over 300 beggars in Colombo and compelled them to have a bath in the open air without any privacy, with media being allowed to film and take photographs, resulting in this being a splash on national TV stations newspapers and social media. Photos and videos indicated some men having collective showers, without maintaining physical distance. Disinfecting of both men and women was also done in public, in front of cameras. Some media used the term "watte" to describe an area in Colombo where large numbers of COVID19 infected patients were found. This term implies low-income areas with small and basic houses close to each other with basic facilities, such as shared toilets. The lady who was believed to be the first patient from this community was particularly targeted, being referred to as the "Coronona lady", thereby setting the area on "COVID fire".
2. Hostility towards Muslims and Christians
Muslims have been blamed for being responsible for COVID19 and were the target of hate speech, and much of this was based on false news. On two occasions, police had arrested some persons, but most seemed to get away with hate speech and false news. The World Health Organization's guidelines pertaining to the disposal of bodies of those who die of COVID19 provide for both cremation and burial, which was reflected in Sri Lankan Health Ministry guidelines of 27th March. But officials hurriedly cremated the first Muslim in Sri Lanka who died of COVID19, being indifferent to the wishes of the family and Muslim community leaders and then amended their guidelines to allow only cremations, without any explanation for the changes. On one occasion, constant reference by many media, especially Tamil media, to religion and occupation of one infected person as a "Pastor" has created an environment where there could be hate and hostility towards the Christian community of that person or to Christians more broadly.
3. Prisoners and Refugees
Even before COVID19 deaths in Sri Lanka, two prisoners died of shooting, in COVID19 related tensions in a prison. Sri Lankan prisons have a capacity to accommodate 10,000 people but are overcrowded, with about 26,000 inmates at present, making them high-risk places for COVID19, with no possibility for social distancing and hygienic practices. The Human Rights Commission of Sri Lanka and civil society groups were demanding the release of prisoners. The government had released about 3000 by early April, and the Attorney General had advised the police on schemes of releasing more prisoners. However, some inmates, such as those detained for long periods under the Prevention of Terrorism Act (PTA), without having been charged and trials being completed are not included in these schemes. Detainees who were released last month had reported of beatings, severe overcrowding, and unhygienic conditions, and lack of adequate medical facilities in detention facilities. As visits by families and well-wishers have been stopped, detainees are unable to get even their basic needs from outside.
Refugees and asylum seekers living in Sri Lanka temporarily are not included in assistance schemes by the government and various UN agencies. In the context of curfews in the country and lockdowns across the world, they also find it difficult to receive money from their friends and relatives, which had been crucial for their survival. Amidst widespread stigmatization of Sri Lankan Muslims, refugees also fear being perceived as being Muslims and being targeted, similar to the way they faced physical attacks and evictions after Easter Sunday bombings. And in the long term, they fear that their already delayed resettlement to 3rd countries such as the USA and Canada may be further delayed.
4. Right to food, emergency assistance and workers
With the imposition of island-wide curfew for one month, food became a major concern, particularly for poorer sections of society. The government announced a relief package of Rs. 5000 per family, focusing on daily wage owners and other low-income earners, but there have been widespread allegations of officials charging money for applications, long lines of people to collect the Rs. 5,000, allegations of being left out unfairly, tensions between beneficiaries and officials. The assistance scheme is said to be in favor of government supporters. Many migrant workers from far away districts had been stranded, without income or food, but had not received any government assistance. Calls to designated numbers and meetings with local officials and police had not brought any relief. In the North and East, there were allegations that the Governors (representative of the President) were not approving the use of emergency funds by local government officials and local government officials had sought the help of civil society groups to provide humanitarian assistance to people in need. There have been several reports of those distributing humanitarian assistance being obstructed, facing intimidation, threats from politicians, police, and military, and some being arrested. Some workers had not received wages for work done before the sudden imposition of curfew and some employers are demanding amendment of labor laws that provide protection to workers from arbitrary termination.
5. Repression of free expression and impunity for hate speech, false and misleading news
One of the biggest blows to free expression was when online activist Ramzy Razeek was arrested on 9th April for a Facebook post calling for an ideological struggle using a pen and keyboard and media. He has been a consistent advocate of ethnic harmony and challenged extremism within the Muslim community and against Muslims. He has been remanded till 14th May and the police have implied intentions to charge him under the ICCPR Act. Ramzy had received death threats online and had complained to the police about these before his arrest, but no one has been arrested for death threats made against him.
On 1st April, the police announced that those criticizing and pointing out shortcomings of government officials would be arrested and have legal actions taken against them. Several people who had criticized the government were reported to have been arrested, faced intimidation and discrediting online. The media reported that Police were seeking to arrest 40 persons for spreading false information and there had been other reports that 17 had been arrested by 17th April.
However, the process of such arrests appears to be discriminatory targeting individuals who seem to be critical of the government with small outreach, whereas persons and media institutions supporting the government with massive outreach such as some TV stations and newspapers, seem to enjoy impunity for publishing false and misleading information. The "Sunday Observer", a state-owned and controlled newspaper reported the Health Minister saying that "by April 19 all possible COVID-19 patients in Sri Lanka will disappear and the people who had it without any symptoms or with mild symptoms will completely recover". Another leading newspaper, "Lankadeepa", published headlines on its front page quoting the Director-General of Health Services as saying the risk of corona was over. This was corrected and an apology offered 2 days later, but with less prominence than the false headline. The media group "Ada Derana" published a hugely misleading graph about numbers of COVID19 patients in Sri Lanka. In early April, the Sri Lanka Tea Board reported that they had devised a plan to promote Ceylon black tea as a drink that could prevent COVID19, but the Director of the Sri Lanka Medical Research Institute was reported to have confirmed that there is no research on the benefits of drinking tea for Covid-19 patient and that it cannot be touted as a preventive measure or a treatment in the case of Covid-19. On 21st March, the former Governor of Western Province and National List candidate for upcoming Parliament elections from the President's Sri Lanka Podujana Peramuna, Dr. Seetha Arambepola, was quoted as having said that the State Pharmaceutical Corporation had ample stocks of a secret medication for Corona, and that it could be used after approval from specialist doctors.
6. Militarization
The response to COVID19 in Sri Lanka is excessively militarized, with the Army Commander being appointed as the head of the National Operations Centre on COVID19. The Secretary to the Ministry of Defiance, a retired senior Army officer, features prominently and regularly on national media on matters relating to COVID19 than any other Ministry Secretary. A Presidential Task Force in charge of Economic Revival and Poverty Eradication is also packed with military officers. The military has been involved in running a large number of quarantine centres and in the heavily militarized war-ravaged north, the military is also involved in curfew pass issuing activities. This militarization is in context of the military personnel in Sri Lanka having been convicted and still standing accused in pending cases for massacres, killings and abductions by Sri Lankan courts and facing allegations of war crimes and crimes against humanity from the UN and international human rights groups, with the present Army Commander having been banned from entering the United States of America earlier this year. On one occasion, soldiers had removed a family from a village facing a high risk of COVID19 without the knowledge of the health authorities. People in the North protested in fear about schools in the North being used for quarantining military personnel, and later, the Secretary to the Ministry of Defence said that schools will be used to accommodate soldiers and not as quarantine centres. Surveillance of activists and journalists by intelligence agents, which was common in Sri Lanka during and after the war, may expand during and post COVID19 operations by the military, with the Secretary to Ministry of Defence claiming that he has details of all COVID19 victims in his mobile phone.
7. Rule of Law and Political crisis
While accepting the need for curfew, at least one senior lawyer and others have pointed out the lack of legal basis for the curfew the government had announced since 20th March. More than 42,000 people have been arrested and more than 10,000 vehicles were taken into custody, and legality of this is also not clear. In Colombo and Jaffna, there have been allegations of people having been beaten up by police and the army for being on the street. The Coastal Conservation Department has been criticized for lack of environmental and social considerations in its Mount Lavinia beach development project and un-democratic, not-transparent action while the country was under lockdown due to COVID19.
There has also been widespread condemnation about the lack of due process in the arrest of prominent lawyer Hejaaz Hizbullah on 14th April. He had had very limited access to family and lawyers, the specific reasons for his arrest are not clear and the Attorney General and the police failed to turn up in courts when a habeas corpus application by his family was taken up in courts on 30th April.
The curfew had also restricted people's access to courts to seek remedies for violations and imminent violations, particularly for those from poorer sections of society, for whom access to lawyers and legal remedies have always been limited, even prior to COVID19. Due to the limited number of court staff, it had become difficult for lawyers to obtain court proceedings and confer with detained clients, both of which can affect the preparation for court hearings.
In the early stages of curfew, President granted a pardon to a soldier convicted of the massacre of 8 Tamil civilians, including children. There has also been a report that the soldier had been paid back wages for the time he had been imprisoned and that the Army had accompanied him back home from prison.
On 2nd March, the President dissolved parliament advancing 6 months ahead of the schedule. However, the Election Commission postponed the elections and subsequently rescheduled it for 20th June. This will mean Sri Lanka will be without a parliament for more than the constitutionally allowed period of 3 months. This has led to some lawyers and politicians stating that the dissolving of parliament is invalid and old parliament has sprung back to life, as the presidential power to dissolve parliament early is subject to a condition of parliament re-convening within 3 months. Opposition politicians have also claimed the parliament needs to approve expenditure from 1st May onwards, but the government has insisted the President has constitutional powers to draw from the consolidated fund.
Conclusion
The number of COVID19 infected patients and deaths have been relatively less in Sri Lanka than many other countries, including in Asia. But the numbers of patients are rising, and so are fears, uncertainties, and economic woes, including food security, livelihoods, and unemployment. Reducing militarization and politicization and respect for rule of law, human rights, especially freedom of expression, rights of minorities, workers, and environmental justice will be crucial in determining Sri Lanka's post COVID19 progress. Reviving long term struggles for justice, such as by communities whose lands were occupied by the military and families of those who disappeared will also pose a challenge.
Ruki Fernando
Facebook Comments