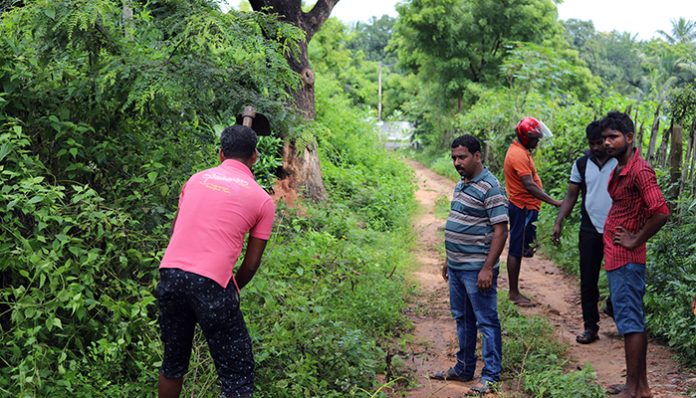 Sri Lanka Army continues with their obstruction in the North and East where Tamils are clearing the graveyards of the LTTE war dead.
When local politicians and residents were cleaning the Mullaitivu, Mulliyavalai Burial Ground on Sunday 13th November to mark the Tamil Martyr's Day on November 27th, commanding officer of the 592 brigade headquarters Brigadier SDP Chaminda Arachchi has claimed that the land belongs to the military.
The brigade commander has further warned that the people can carry out the cleaning work, but their heroes cannot be celebrated on the 27th.
The senior officer issued the warning on the same day the Janata Vimukthi Peramuna (JVP) honoured its comrades in Colombo who died in an anti-government armed uprising.
Maritime Pattu Local Council members T. Amalan and R. Jegan led by Chairman K. Vijindan and members of Martyr's families, had informed the 592 brigade commander that the land on which the burial ground is located belongs to the local council and they do not need military permission to pay respects to their deceased loved ones there.
Local reporters further said that the group who were engaged in cleaning the burial ground pointed out that it is their right to commemorate the dead, and left the army camp to continue the clean-up of the cemetery.
Tamils in the north and east are preparing to commemorate the tens of thousands who died in the war and laid to rest in LTTE cemeteries bulldozed by the military following their complete takeover of the areas in 2009. Army camps have been erected on the lands making it difficult for relatives to honour their loved ones.
During the last few days, the army had obstructed the Tamils in the North and East who were engaged in the cleaning of the burial grounds to mark the Martyrs Day.
On November 2, when a group of people including the deputy leader of the Tamil National People's Front (TNPF), and Member of Parliament Selvarajah Kajendren, were engaged in clearing the overgrowth in the midst of rain, soldiers demanded them to stop the work.
At the same time, photojournalists in Jaffna filmed the army soldiers installing Buddhist flags on the road in front of the cemetery.
The Tamils who were engaged in cleaning activities at Mulathivu Thunukkai Alankulam Cemetery, Mannar, Manthai West Artikali Valley Cemetery, and Theravil cemetery had to face obstacles from the Army personnel and those engaged in cleaning activities at Trincomalee, Sampur, Alankulam Cemetery. The police had requested the leader of Tamil National People's Front (TNPF), Member of Parliament Gajendra Kumar Ponnambalam to stop the activity.
Facebook Comments