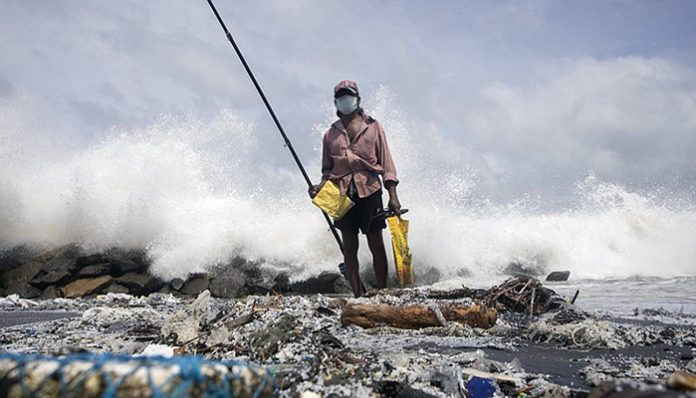 A leading fisheries trade union leader alleges that millions paid to compensate fishermen for the damages caused by the X-Press Pearl ship, is used in a manner that creates disharmony among the fisher community.
He claimed that the country's highest Catholic leadership is also involved in this divisive act.
"The government is implementing an exceedingly unfair plan which is aimed at creating disputes among and dividing the fisheries community and breaking their backbone."
All Ceylon Fisherfolk Trade Union (ACFTU) President Aruna Roshantha levelled this allegation while speaking to journalists after lodging a complaint with the Human Rights Commission of Sri Lanka (HRCSL) on Wednesday (28).
According to him, out of Rs 720 million received by the Sri Lankan government as compensation for the damages caused by the X-Press Pearl ship, a sum of Rs 420 million has been allocated for the fisheries community.
Expressing displeasure over not including fishermen in the committee appointed to take decisions regarding paying compensation to fishermen, Roshantha pointed out that the government has arrived at an unfair decision to pay compensation based on the fishing methods.
"Rafters receive Rs 15,000 for 10 days, and boats that land fish by nets receive Rs 80,000. We want to know what is the difference between these fishermen and those fishermen."
Fishermen are being compensated because they have lost their occupation, Roshantha said, emphasising that there should be no discriminationa as small-scale or large-scale fishermen.
"How are they going to pay compensation like this? What right do they have to take decisions about our lives in this manner? We urge the government to take steps to rectify this mistake immediately."
Ruler and preacher
According to Roshantha, the committee that decides on compensation comprises representatives of the government and the Cardinal.
"Negombo District Fisheries Association is an organisation run by the government, and its Gampaha district president is not a fisherman. Also, its president is the fisheries minister."
On 3 June, MV XPress Pearl owned by a Singapore-based company, caught fire while it was in the Sri Lankan waters awaiting clearance to the Colombo port.
Shortly after, Negombo Citizens' Collective issued a statement which read that an indescribable environmental damage was happening due to the chemicals that had been stored in the containers the ship was carrying, which are harmful to the environment, human lives and marine species, as well as the debris the incident created.
The prohibition imposed in several areas, such as the 16 km area from the place where the ship caught fire, 6 km area from Negombo to Kochchikade, and 2 km towards Panadura, is still in effect, Roshantha said. He had said at an earlier press briefing "in most cases, navy officers chase away fishermen".
Facebook Comments