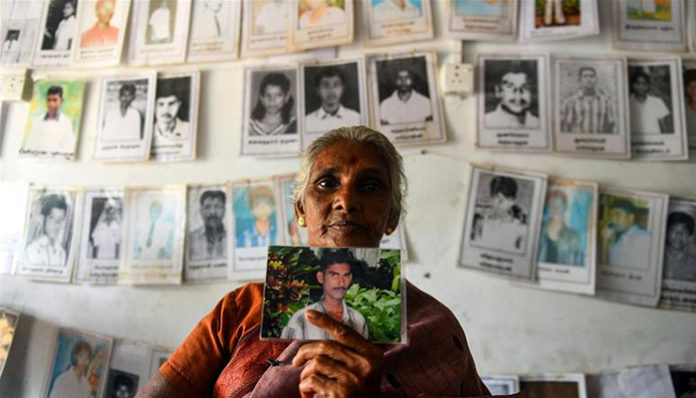 Tamil mothers in war-torn North have rejected the Sri Lankan government's proposal to pay 100,000 rupees per family, while ignoring their 13-year-long demand to know the truth about the tens of thousands of people who have been forcibly disappeared.
The cabinet of ministers had approved a proposal submitted by Justice Minister Ali Sabri to make a one-time payment of Sri Lankan Rupees 100,000/- per person who obtains a "Certificate of Absence" of disappeared persons.
The Association for Relatives of Enforced Disappearances says that they are ready to pay two million instead of one hundred thousand, if the fate of their relatives who disappeared after being handed over to the Army, is revealed.
"Who are these people who have decided that the value of our relatives' lives is only one lakh rupees?" Mariyasuresh Eshwari, Mullaitivu District Leader of the Association for Relatives of Enforced Disappearances, along with its secretary Prabhakaran Ranjana questioned while speaking to the media in Mullaitivu.
"We are not ready to betray our fight either for a hundred thousand rupees or a death certificate or a certificate of absence. We will not give up the struggle until proper justice is delivered for our relatives."
The Office of Missing Persons (OMP) in operation for almost three and a half years has failed to find a single victim of enforced disappearances.
According to the Sri Lankan government, OMP regional offices in Matara, Mannar, Jaffna, Batticaloa and Kilinochchi have received 14,988 complaints over disappearances.
The government says that a proposal submitted by the Minister of Justice to appoint 25 Inquiry Boards to implement expeditious programs to investigate and finalize those complaints, was approved by the Cabinet of Ministers which met on 7th March 2022.
However, President Counsel Saliya Peiris stated during his tenure as OMP President that the number of people who disappeared during the war was close to 20,000.
A majority of them were those who surrendered to the security forces, trusting the government's call in the last days of the war.
The Tamil war victims – who have realized that there is no refuge in Sri Lanka's legal system that provides impunity for criminals – are calling for an independent international inquiry.
Since the Sri Lankan governments continue to refuse an international intervention over violent human rights abuses, including war crimes and crimes against humanity, the United Nations has begun gathering evidence over such incidents.
The Sri Lanka accountability project under the office of UN High Commissioner for Human Rights, which has collected more than 120,000 pieces of evidence in less than a year, believes that the information could be used to prosecute suspected perpetrators in international courts.
Facebook Comments