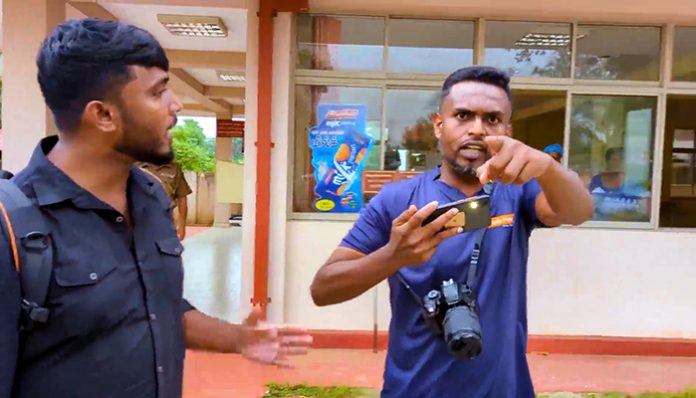 A police officer in plain clothes has threatened Tamil journalists covering issues faced by the war-affected Tamils in Vanni.
Journalists Shanmugam Thavaseelan and Kanapathipillai Kumanan faced threats on Monday the 19th of December in front of the Mullaitivu District Secretariat office whilst they were reporting a protest by the families of the enforced disappeared. These protests took place as the commissioners from the Office of Missing Persons (OMP) that had allegedly done nothing for the past five years to trace any of the disappeared in military custody
turned up to meet relatives for the purported investigations.
When Kanapathipille Kumanan questioned a person who he suspected of being an intelligent agent why he was taking their pictures, a uniformed police officer told the suspected agent: "don't try to create unnecessary issues".
The suspected agent began to threaten Kumanan saying, "This man has been creating issues for me for a while, I will catch him somehow". This statement was filmed by the other journalist Shanmugam Thavaseelan.
Local people in the area as well as the provincial journalists say that they know very well that the suspected person is from Police.
However, the suspected agent introduced himself as 'Media'.
In the video, Eshwari Mariadasan, leader of the Association of Relatives of Enforced Disappeared (ARED) in Mullaitivu District, can also be seen asking the suspected agent not to take any videos or photographs.
"You are always like this. You threaten us every day. Please stop this. Please stop taking our videos and photographs."
In addition to the physical attacks journalists in the war torn province who expose crimes, corruption and frauds that take place in the war-torn North Are forced to bear the burden of such intimidation.
Mullaitivu Press Club President Shanmugam Thavaseelan had previously been attacked by a suspected intelligence agent whilst reporting on the fuel shortage in Mallavi on19 June 2022. Shanmugam Thavaseelan was also the victim of another severe attack, along with Kumanan Kanapathipilla, that took place two years ago for exposing an illegal timber racket in the Thannimurippu forest reserve, Mullativu.
Facebook Comments