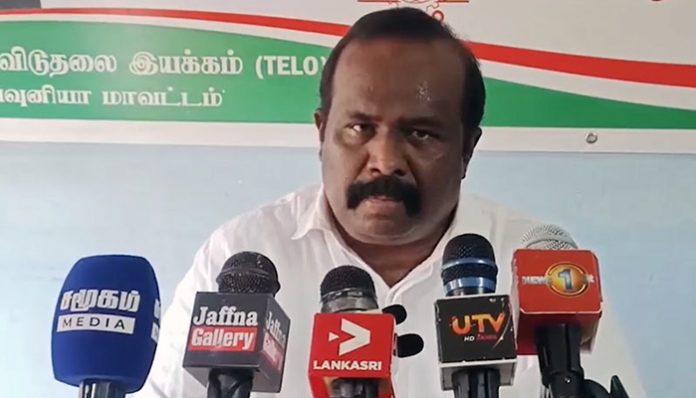 Prison guards at Colombo prison are accused of being 'racist and harassing women' who travelled all the way from the North to visit Tamil political prisoners.
Tamil National Alliance (TNA) lawmaker and leader of the Tamil Eelam Liberation Organization (TELO), Selvam Adaikalanathan while speaking to media persons in Vavuniya stated that the relatives of the Tamil political prisoners in Colombo Magazine prison were subjected to "abusive, racist and violent" discriminations.
"The women were searched inside out and indecent language was used."
Relatives were granted permission to visit their loved ones on Prisoners Justice Day.
When an inmate Devadasan's daughter refused to let the officers search her in an unacceptable way in what could be considered as outraging her modesty they are alleged to have said in Sinhala, "this is our Sinhala country, and we can do whatever we want here".
The TELO leader also strongly objected to the behaviour of the prison guards and demanded an immediate investigation into the incident. "We will be writing to the President and the Prime Minister" he further said at the media briefing.
Tamil political prisoners are incarcerated for long years without charges being framed or being continuously detained under some pretext or other were visited by their families from Jaffna recently.
The National Movement for the Release of Political Prisoners has strongly condemned the behaviour of the prison guards alleging that such harassment of the women continued throughout that day.
"In order to prevent the occurrence of such incidents the prison guards should be trained not only in the law, but also in discipline, human relations, and human dignity that goes beyond the uniform and the weapon they have in hand. The offenders should be sent for rehabilitation", said the convener of the movement Father Marimuthtu Sathivel.
Ahnaf Jazeem a young Muslim who was imprisoned for more than a year and a half based under the draconian Prevention of Terrorism Act and has described how torture and harassment happen and especially if it's a Muslim person it is even worse.
"When a remanded person was brought back to prison after being produced before the court, they were searched by Special Task Force soldiers. If it was a Muslim, they told them to strip down naked and they checked their anus by inserting a needle in it with a light," he tweeted.
Facebook Comments