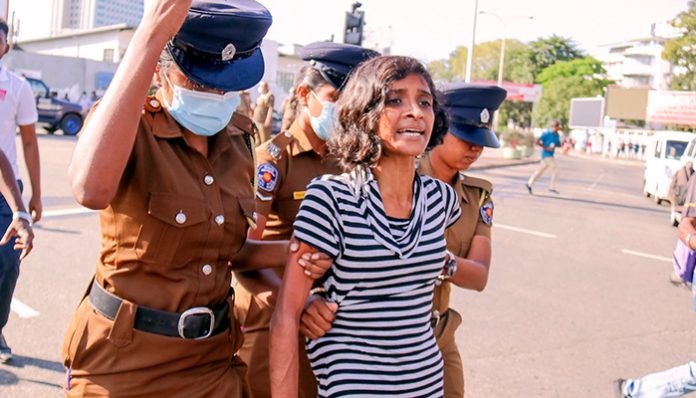 Aragalaya protestors who were key to ousting war crime accused former president Gotabaya Rajapaksa from power have admitted they were aware of the human rights abuses against Tamils in the north.
A Sinhala activist harassed and intimidated by police while protesting state oppression in the south acknowledged that what happened to the Tamils in the North is happening to the Sinhalese in the south now.
Melanie Gunathilake arrested for taking part in a protest organised by the Janata Vimukthi Peramuna (JVP) led Socialist Youth Union (SYU) said this after her release.
She had allegedly been dragged by the police while filming about what she calls several human rights violations by the state when the protest was staged in Colombo during the weekend.
"Suddenly two police vehicles came and they told the other police officers to arrest us; they didn't give us any to move are or leave, we don't know why we were being arrested"
The SYU and few other groups protested state oppression and several other issues of hardships Sri Lanka is facing throughout since April.
"This shows us how the issues were faced by the people in the North for years, but we didn't think this would happen to us. But now it is happening to us" Melanie added.
People were getting teargassed and muddy waters were being sprayed on them which they recorded she further said.
Narrating what happened at the protest scene Melanie recalled "we don't know whether we were being arrested or not, so they pushed us pulled us from our legs and dragged across the road and injured us and then they took us into the police station, but we kept asking why we were being arrested and we asked the names of the police officers. This information was not revealed to us".
The names of the Police officers were told to them only while their statements were being recorded around 8:30 PM even though they were arrested in the middle of the day.
"It was like, they literally abducted us in the middle of the day without informing us why we're being taken, whether it is police officers or anybody else, we have a right to know if somebody is touching us, if somebody is violating our personal spaces".
She slammed the state oppression as completely unethical and illegal.
"As Sri Lankans we should not allow this to happen, we should stand against this, we should speak against this, we have human rights, Sri Lankans have a right to live as decent humans".
The JVP supported Mahinda Rajapaksa in the 2005 election backed him and his sibling, wartime defence secretary Gotabaya Rajapaksa during the war against the Tamils. The party has never apologised for their role in alleged war crimes and covering it up.
Facebook Comments