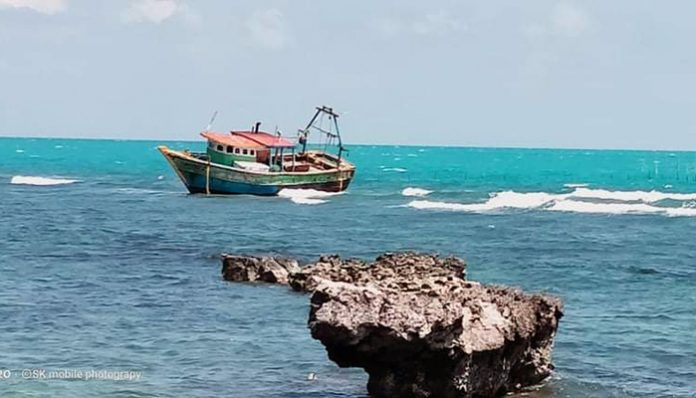 Four Indian fishermen suspected missing from a stranded boat in northern Sri Lanka have returned home in Tamil Nadu.
The four fishermen, all workers set sail from the coastal town of Pudukkottai in Tamil Nadu on Saturday morning (13th March) and by the night the boat developed a technical snag. The crew of four 'without anchoring' it was trying to repair the boat bearing registration number IND.TN.08.MM.145 drifted toward the Neduntivu coast due to strong winds.
Subsequently, boat allegedly hit the sand bar in the Neduntivu coast and got grounded.
"Fearing arrest by the Sri Lanka Navy for trespassing into their territorial waters the crew members called out for help from other boats who were part of the voyage to be rescued" TN fishermen association leader Bencinglas Jesuraja said.
Shahul Hameed (21), Vetrivel (21), Noor Muhamed (21) and Marudhu on getting immediate help from rescue boats who started their journey with others returned to Tamil Nadu leaving behind their boat.
"Return the boat"
Jesuraja has now demanded that SL Navy return the boat immediately and say they have written to the Tamil Nadu fisheries authorities to take it up with the Federal government with the Sri Lankan government.
Losing a boat mid-sea or being captured and towed away by the Sri Lankan Navy seriously affects the livelihood of Tamil Nadu fishermen.
Recently four Indian fishermen were allegedly killed and their boats dumped in the sea by the Sri Lankan Navy.
Fishermen from Northern Sri Lanka are opposed to Indian fishermen entering their waters for fishing purpose-which they call poaching- and have told many a time that Indian fishermen should not enter Sri Lankan waters for fishing.
However, they have reciprocated positively to the proposal from their Indian counterparts to hold direct talks to find a lasting solution the fishermen of both nations face mid-sea.
Facebook Comments