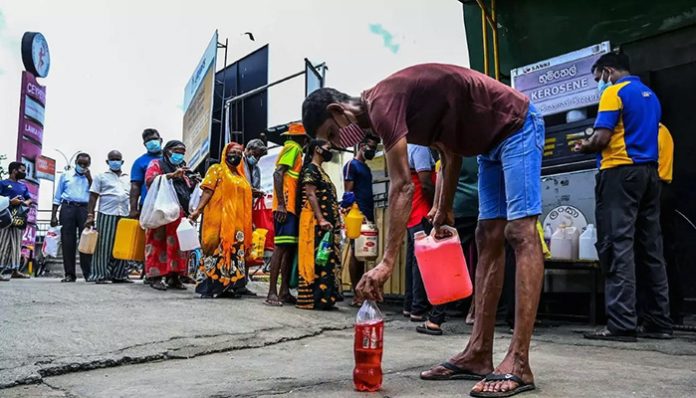 Several Tamil journalists who had published reports about the intervention of authorities to distribute a hoarded stock of kerosene during ar slapped with a lawsuit demanding compensation for 100 million Sri Lankan rupees.
The owner of the petrol station established near the Mullaitivu district hospital under a under the Ceylon Petroleum Corporation franchise, had filed the case in the Mullaitivu court against three media organisations, four journalists and a government official alleging defamation.
Lawyer Dilshani S. Ahangama in a letter of demand has mentioned a news headline that has been posted on social media platforms stating that "900 liters of kerosene stored in the Mulliyavali petrol station has been seized by the officials of the price control department of Mullaitivu district and distributed to the people" and that it has in turn damaged the reputation of her client Kumaraiya Mahendran.
Lawyer Ahangama has further stated that her client is the owner of the petrol station that's situated near the hospital in Mulliyawalai in Mullaitivu district, who is a well known businessman and the traditional guardian of the Vattappalai Kannaki Amman Kovil. Ahangama has stated that her client's reputation was damaged through the journalist's reporting.
The owner of the petrol station, K Mahendran has filed the lawsuit against Ask Media Pvt. Ltd., CEO of Ask TV S.S Kuhanathan, journalist Shanmugam Thavaseelan, K. T Vasantasekaran of the price control department of the Mullaitivu district secretariat, Asian Media Publication Institute, Thinakural Editor A. Sabeswaran, Valampuri Newspaper and the Editor of Valampuri Nadaraj Vijayasundaram.
Whilst filing the lawsuit for compensation, Kumaraiya Mahendran further stated that his reputation as a businessman was damaged due to the news that was published in the media.
Kumaraiya Mahendran says that the accusations that have been directly leveled at him through the news were; "Corrupt, dishonest, fraud, hid kerosene, hid kerosene without informing the authorities, hid the kerosene that was supposed to be distributed to the common people and stayed without distributing it to the common people, he has no concern for the people"
Verified Information
Journalist Shanmugam Thavaseelan, the head of the Mullaitivu Media Society, says that the news he reported was based on confirmed sources and after filing an application through the Right to Information Act (RIA), he verified the authenticity of this information once again.
In another incident, Journalist Thavaseelan while reporting on the fuel shortage in Mallavi was assaulted by a person suspected to be an intelligence officer. He was also assaulted along with a professional colleague Kanapathipilla Kuman two years agotwo years ago, for exposing an illegal timber racket.
In addition to physical assaultsand harassment for exposing crimes and corruption scams in the war-torn north, journalists have come under presure from lawsuits against them.
The case is scheduled to be called for a hearing on October 31, as journalists have requested for time to present their facts.
Facebook Comments