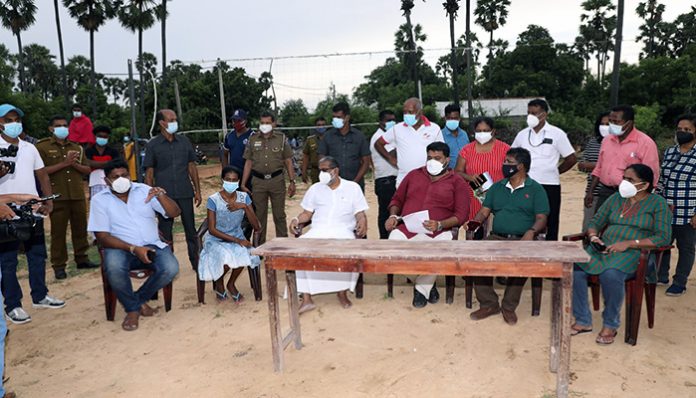 The Rajapaksa government, increasingly becoming unpopular due to the skyrocketing cost of living, has been accused of a bid to incite racism in the north of Sri Lanka in search of Sinhala Buddhist heritage.
Vidura Wickremanayake, State Minister of National Heritage, Performing Arts and Rural Arts Promotion has observed a site with ruins in the Veherapiddi area in Karainagar, Jaffna recently with a group of officials from the department of archaeology.
The government move has been condemned by local Tamil politicians as an attempt to pacify the protesting Sinhalese.
"The Gotabaya Rajapaksa government has increased the prices of all essential commodities by two to three times and the people are unable to live. Now they are trying to quell Sinhalese protesting this unbearable cost of living, claiming that there are Sinhala Buddhist antiquities in Tamil areas and taking over these lands," said Balachandran Gajadeepan, former member of the Northern Provincial Council.
Archaeological department officials say that there are many ruins in the area near Ganesha Vidyalaya in Veherapitti village. The excavations were carried out on the land to the right of the school building, at a depth of 2 metres with a diameter of about 15 meters. Parts belonging to 06 foundation stones have been discovered, according to them. Ancient roof tiles and a ruined building suspected to be an "old Buddhist dagoba" have been found on the east side of the school building. A circular stone with a 5 meter diameter hole in the centre may have been a "small awning belonging to the ".
State Minister Wickremanayake has instructed archaeological officers to expedite the excavation of the site and to carry out conservation work to find out its historical significance and said doing these activities without any injustice to the people living in the area.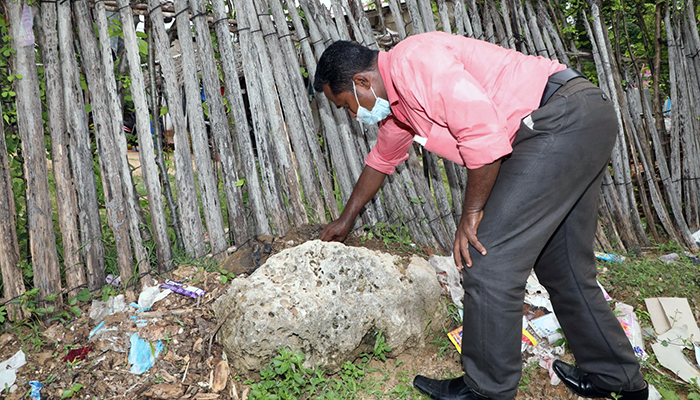 Former provincial councilor Gajadeepan has strongly criticized Angajan Ramanathan a member of the Sri Lanka Freedom Party (SLFP), a coalition partner in the Rajapaksa government, for supporting Minister Wickremanayake's land appropriation plans in Jaffna.
"Archaeology is one of the methods used to grab the land inhabited by the Tamils for generations. The Minister has set aside all other issues and come to the North in search of treasures of Sinhala Buddhism. It is a shame that MP Angajan Ramanathan is also supporting these moves. Even Douglas Devananda, a powerful government minister, does not support the spread of Sinhala-Buddhist domination. Angajan must stop this stupid thing, " he pleaded.
State Minister Vidura Wickremanayake was also condemned by the Tamil people when he turned up with a group of monks and soldiers to the centuries old Hindu shrine, Kurunthurmalai Siva temple in Mullaitivu and install a Buddha statue in order to convert it into a Buddhist place of worship.
Facebook Comments